SWIPER® Medical Device Foam Wiper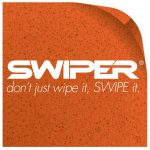 The SWIPER is a sterile, biocompatible, fiber free, foam wiper designed for the removal of blood, contrast and other contaminants from sterile instruments and medical devices.
The fiber free and low particulate characteristics of the SWIPER will minimize the transfer of foreign bodies into the patient. Data confirms that foreign body contamination is associated with complications and risks that increase the liability and costs to the hospital. (see references)
The SWIPER is highly absorbent and transfers fluid evenly to the medical device surface due to the variegated open-cell polyurethane pore structure. The conformable foam greatly improves efficiency in cleaning catheters and guidewires by contacting and wetting the full circumference of the device.
The material used in the SWIPER was originally developed and adopted by NASA and is now available for use in sterile medical procedures.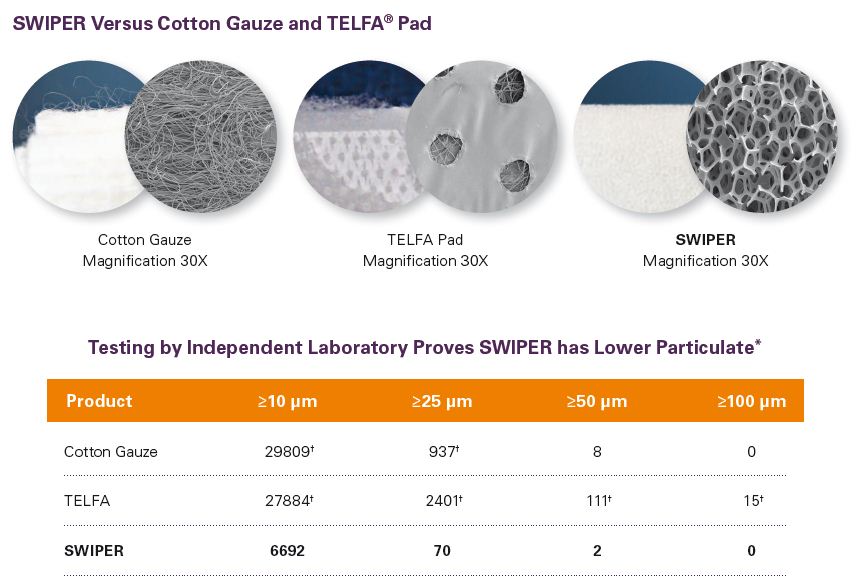 *Test performed by submerging and squeezing product in 80 ml of filtered water and then analyzing sample of water with light obscuration particle counting equipment. Counts expressed as average number of particles within micron (μm) size range per 80 ml of fluid.
†Denotes particle count significantly greater than SWIPER (p< 0.05).
Data on file at Syntervention, Inc.
PRODUCT FEATURES
DEVICE APPLICATIONS
PROCEDURE APPLICATIONS

Biocompatible
Latex free
Fiber free
Low particulate
Pyrogen free
Durable and non-shredding
Conformable yet maintains
shape during hydration
Highly absorbent
(holds 20 times its weight in saline)

Guidewires
Catheters
Gloves
Surgical Instruments
Implants
Endoscope Lenses
Laparoscopic Lenses

Cardiac Catheterization
Peripheral Intervention
Interventional Radiology
Interventional Neuro-Radiology
Vascular Surgery
General Surgery
Electrophysiology
Ophthalmology
Orthopedic Surgery
Robotic Surgery
Ear, Nose, Throat
Dental